Hose Reels
Full range of Hose Reels available to order..... manufactured in plastic, mild steel (powder coated) & stainless steel suitable for aviation, agricultural, domestic, food processing & mobile market. We offer reels with spring rewind, manual driven or motor driven.
All of our reels can be purchased with or without hoses. Hose sizes vary from bore size 6mm to 25mm & in lengths from 10m to 50m. All hoses available ex-stock & reels available with fixed or swivel brackets depending on requirements.  Larger custom Hose Reels also available on request.
Average lead time on Hose Reels is approx. 7-10 days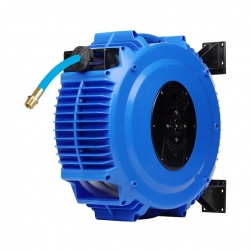 GEN 111 Series
Heavy Duty UPVC spring driven hose reel for air & water complete with 15mt x 10 or 20 bar air/water hose. The hose terminates in a 3/8" BSPT male & the hose reel inlet is 3/8" BSP female.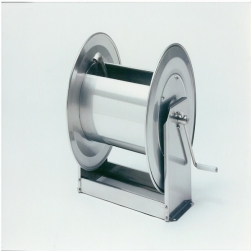 Reelcare Hose Reels
Design, manufacture of high quality, high performance hose reels for all applications.